Today is my second showing of work made with ceramic beads by Lisa Boucher of
Clayworks
. You can read more about the Cup of Bead Soup project
by clicking here
.
I think this is my favorite pendant of the group Lisa sent. This necklace came together quickly and with very little thought. I love when that happens!
I used bronze jump rings to connect the pendant to links of, of all things, an inexpensive chain I found at Ben Franklin. Where I live, Ben Franklin is the closest thing to a Michaels there is. I usually never buy beads or chain from either one, as they've knocked off bead-maker friends of mine, but sometimes they have things that I groove on. In this case, it was a large-link antiqued brass chain that I knew I could take apart and use as links.
I used the smaller accent beads Lisa sent and dangled them in the center of the textured rings. This is where I say I LOVE
Vintaj 3" head pins
. Yeah, yeah, I know -- way more wire than I need. But I always make wrapped loops, and I like having plenty of wire to "crank" around the neck of the wire. I also used
Vintaj wire
to link together the bone beads (again, a Michaels find). Teeny tiny wood beads I rescued from a vintage necklace accent the ceramic beads.
I finished the top of the necklace with faux suede cording from
Barbara Lewis
. I don't like large chain at the back of my neck because it annoys me and I'm always fiddling with it, and besides, I love how the color blends with the colors of the ceramic. The clasp is another Vintaj piece.
I'm much happier with this piece than
my last one
. And I REALLY appreciate the suggestions I received via post and email. I think I'm going to rework it and add another strand of something to the linen. I really DID want suggestions, and I'm glad you guys took me up on it.
Stay tuned for the last piece, coming soon! In the meantime, please visit her at the following sites:
Happy Creating!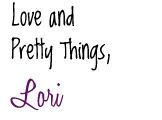 Lori Anderson creates jewelry for her web site, Lori Anderson Designs, and wrote the blog An Artist's Year Off. She's also a contributor to Art Bead Scene. She is also the creator of the Bead Soup Blog Party.