Today is my first showing of work made with ceramic beads by Lisa Boucher of
Clayworks
. You can read more about the Cup of Bead Soup project
by clicking here
.
I knew I was really going to be challenged by this month's beads. I don't typically work with this style and the bail of the pendant I chose to work with today is a tough one at times to design with. If you string with it, you have to be sure to but larger holes at the ends of the "tunnel" so the beads don't slide back and forth and you lose your center. Then you need to make sure the beads aren't too big because you don't want the wire to show when the necklace is held up. Making wire loops is an option, but then you get an entirely different drape. All good things to keep in mind!
I wanted to challenge myself with some fiber this time and chose a length of raw linen I got from
Stephanie Lee
at a class I took with her. The idea was to create a "caught in the sea by a net" image. I have no idea if I created that or just created Amateur Hour.
As with most new mediums, I'm apprehensive and fly by the seat of my pants. I have no idea what I'm doing. I don't draw out plans. I just wing it. And sometimes that makes a really cool piece -- and sometimes it creates a piece that needs some work. So I welcome your comments on how to make this better.
I started by knotting the linen at the sides of the pendant so it wouldn't slide. Then I took some smaller pieces of thread and knotted on a few copper spacers, like flotsam caught in the net.
Next I added a ring from
Vintaj
that I filed to weather it a bit, knotted on the matching ceramic beads, more copper (both strung and knotted on), and finally the clasp at the top. When I originally received this box of beads, I had plans for the clasp on the side of the necklace, but it just didn't look right this time.
I honestly have no idea what I've created. Is it interesting? Is it a flop? Does it need something? Should I start all over? I know what I had in mind but I'm not sure I got there. Any constructive comments are welcomed -- please don't say "oh lovely you rocked it you are the queen" when you have ideas! That's how I learn.
One thing that shines, though -- Lisa's beads. Not a THING wrong with those. So please visit her at the following sites:
Happy Creating!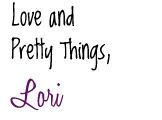 Lori Anderson creates jewelry for her web site, Lori Anderson Designs, and wrote the blog An Artist's Year Off. She's also a contributor to Art Bead Scene. She is also the creator of the Bead Soup Blog Party.